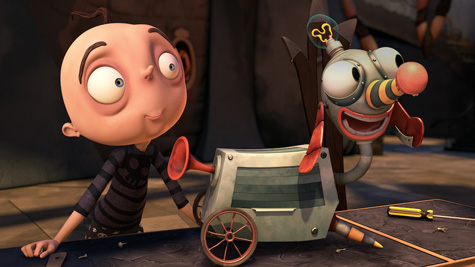 Figaro
Meet Figaro Pho. He's got every phobia imaginable. . . plus a few more.
These phobias range from the stock standard fear of Spiders to the not-so-common fear of being stared at by a Duck. From the fear of Aliens to the fear of Mad Dogs, Figaro has them all and he keeps discovering more!
"The Adventures of Figaro Pho" is a 13 x half hour (39 x 7 mins) high quality CGI series that takes an absurd and comedic journey through the world of Figaro Pho, a lovable character riddled with phobias and his best friend, the robotic dog Rivet.
This property is based on the shorts that were originally created for ABC TV by Luke Jurevicius and cleaned up at the Kidscreen 2009 awards, including Best Animation Series in The World, Best Overall Animation and Best Direction as voted on by international children's broadcasters. The current series animated by Ambience Entertainment and co-produced with Chocolate Liberation Front won the AACTA for Best Children's Entertainment, Best Design and Best Animation at Kidscreen 2013.